Some tools to deal with the power management.
Please don't mind the graphics. Im currently working on the functionalities. In the phase 2 will be new UI's and new graphics. :)
Only the host can see and change some things.
---
Power Control Room 12 Switches
12 Switches
12 inputs (independent) -> 12 outputs (independent)
Shows Power / Reset Fuse
Every input/output has 4 connections
---
Power Control Room 1 x 12
Same as before, but with one input to all outputs
---
Power Switch
Click E turn ON/OFF
1 input -> 1 output
Green when on/Red when off
---
Wireless Power Transmission Pole
Power Pole you can set a name, and connect with others you named, in any place of the map.
---
Auto Switch: More Power Connects
Let the more powerful line connects to Output.
2 power inputs -> 1 output (Auto chooses one of them)
---
Auto Switch: Less Power Connects
Let the less powerful line connects to Output.
2 power inputs -> 1 output (Auto chooses one of them)
---
Auto Switch: AND
Let the inputs connects to outputs, only if the two inputs have energy.
2 inputs -> 2 outputs (Auto connects/disconnects each side of the Auto switch)
It will not work right if you connect all inputs/outputs in the same power line.
---
Emergency Power Storage
No refund if dismantle
Uses 1000 Batteries to build
Generates energy for a period of time (for 750MW > 15 minutes) and then, turns into scrap.
---
Pole Sign, Pole Sign Central and Alert System
A pole that shows if its receiving energy
If the energy on the pole is less than 5MW or the fuse is triggered, it will show red.
The Pole Sign Central Lists the power in all your "Pole signs" and you can set an Text and Sound alert to it.
---
Potentiometer
You set how much power will go to the output.
This power will be reserved for the output buildings, removing from the input
---
Belt Stopper
If the current power is below 50MW, it stops the belt.
It has a buffer of 3 slots.
PS: For pipes you can use a Pipeline Pump to set on and off depending on its powered.
---
Any Bugs or Suggestions, please contact me on Discord: MayorAquila#7740
Video: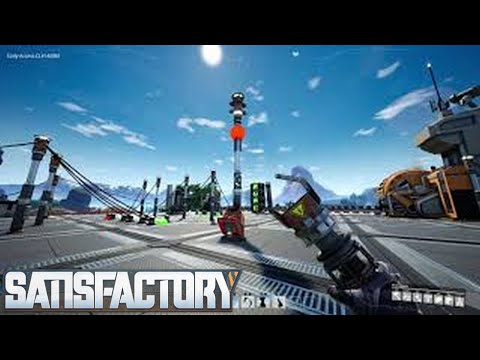 Any ideas / Suggestion / Need Some Help / Bug Report :
Icon /UIs and Graphic Advices by Deantendo#4265 - https://discordapp.com/channels/555424930502541343/701160102077530213
I'm having a lot of fun making Satisfactory Mods and I hope you are enjoying them! If you want to donate, i would be very grateful.
Support Andre Aquila