The purpose of the mod is to motivate yourself to make a Mega Factory and produce all the items as much as possible per minute.
It's a challenging mod, so be aware it's might be difficult at some high tier.
Starts on Tier 5
Adds 200+ Milestones that gives you some decorations, parts, alternative recipes and buildings as rewards and more Inventory Space.
Better use your current save, instead of begining a new game.
Meet the TEAM:
M.Frost - Items creation and balancing\Storyline Writer - Crazy Scientist
Rahxus - New Meshes and icons
DukeLetholdu - New Meshes and icons
Hailun - New Meshes and icons
Andre Aquila - Programing/Meshs/icons - One man Army
Help us with the wiki: https://satisfactory-more-milestones-100-mod.fandom.com/
Use the +100 Milestone Codex to see all unlocks and recipes
Totals in this version:
Totals in this version
241 Milestones +100 in Kraigsta More Milestones
798 Automated Recipes
590 Parts
105 Prizes
15 Landmarks
35 Themed Items (Halloween/Xmas)
233 Usable Rewards
135 Nodes (13 New Minable Node Type - 2 Fluids / 10 Solids)
30 Trees of New Consumable (Ogolberry/Rockberry/Medusa/Rilikiji)
20 Engineer Logs
6 Special Drop Pods
1 Space Station
Including:
New nodes: Villiaumite, Cobaltirite, Mud Water, Contaminated Oil,Native Indium, Electrum, Nantokite, Phoslinite, Tanadanite, Uraniuvite,Zincochromite,Rubber tree(occult latex), Galeadrite, Krushnesite.
Mk Rock Miner, Toxin Reactor, Alloy Foundry, Impurity Remover, Advanced Deep Drilling, Baby machines, Atmospheric Harvester, Toxic Extractor, Advanced Manufacturer, Elegant Constructor, The heating and filtering mysterious furnace and many more.
Big Industrial Storage Container, Big Industrial Storage Tank, Tall Stackable lookout tower, Domes, and more...
This mod is big and adds several new things/buildings to the game, and includes a dependency on these others mods to a better experience.
Better with:
*+100 Milestone Kraigsta Infinity Milestones * (More Milestones)
Decoration Mod (ability to Build Nature Decorations)
Upside Down Foundations (New kind of Foundations)
3D Text (You can put letter boxes in you Factory - Plus Ficsit Logos)
PaintGunMK2 (Faster Paint Gun)
Wall Hole Conveyor and Floor Hole (More options on logistics)
Covered Conveyor (Decorative Conveyor Belts)
Double Cargo Wagon (Train MK2)
Fluid Sink and BigStorageTank (More Fluid Logistics)
** GeothermalMK0** ( Geothermal variant at Tier1)
Suggest more/less on https://discord.gg/WQBz8HG
Collaboration and hard work of AndreAquila with M.Frost#6954!
Thanks for testing, suggesting and motivate us: Kraigsta, Jackietimsy, Jsennin, ShadowWalker, Vitality, Rob, viinamäen mies, bluerat, SharkieJr, Mrhid6, I'm_a_chicken29 and a lot of other players of this amazing game!
Big content Tiers list, in order of release :
Rubber industry ( part 1) (tier 28)
Light alloy ( tier 15)
Toxic Rafinery (tier 45)
Rapid Rifle Industry (tier 46)
Rubber mega industry ( part 2) (tier 45)
Wood Industry (tier 7 )
Chrome\Cobalt Industry (tier 56)
Uranium lovers + Road to the perfect fuel part 1 (tier 62)
Industrial factory ( tier70)
Coal factory ( tier 1)
Frostex ( Uranium Lovers part 2) ( Tier 63)
Baby Machine Part 1( Tier 10)
Rock Madness ( Impurity part 1, Tier 68)
Impurity part 2 ( Tier 68)
Baby Machine Part 2 ( Tier 20)
Freezing machine patch ( part 1, Tier 75)
Aquila's 3D full optimisation ( all items a better new looks)
Freezing machine patch ( part 2, Tier 75)
Update 4 Demantia ( Mostly Bug fixing of update 4 + Tiers change 1-101 )
4 alloys patch! ( part 1, Tier 80-115)
Dark furnace ++ ( more alternate recipe, center around concrete)
Aquila's aesthetics update ( all item mesh for conveyor + others re-looking)
4 alloys patch 2 ( Tier 90-115)
Coming Soon :
-More alternate recipe!
4 alloys patch Part 3
Singular Patch
1.0 (Polishing and end of Storyline)
And way more!
To discover how you do the new recipes, Press N in game and digit the name:
Xmas Theme:
Halloween Theme:
Some of our buildings and Materials:
Visit our Wiki : https://satisfactory-more-milestones-100-mod.fandom.com/
Sheet of the Milestones (Spoiler Alert): https://satisfactory-more-milestones-100-mod.fandom.com/wiki/Regular_Milestones
LK Aice Video: +100 Milestones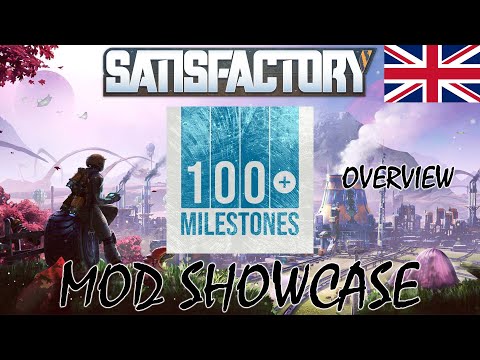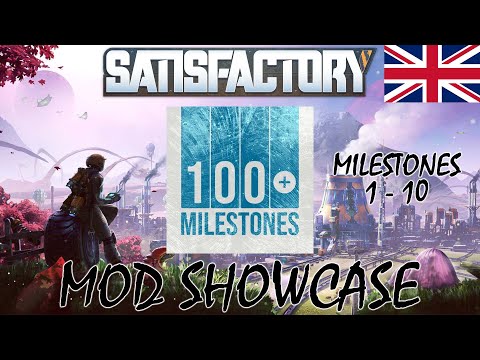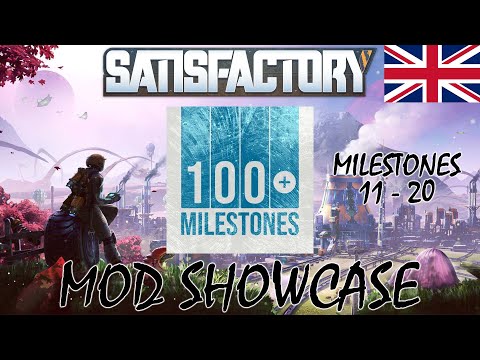 Any ideas / Suggestion / Need Some Help / Bug Report : https://discord.gg/WQBz8HG
If you wanna support us with donation : [email protected] / donate
Icon by Deantendo#4265 - https://discordapp.com/channels/555424930502541343/701160102077530213