Environment items that you can place on your Factory.
.
ATTENTION: To use the benefits of this mod, scroll through the Hub Milestones Tiers and find the correct item to unlock! Sometimes the unlock item is kind of hidden, and you have to Scroll to the right to see it.
.
There are 86 Trees, 84 Rocks and 40 Corals from the Game. Now it works with MoarFactory.
Only the Nature Foundations Mod (Upside Down Foundations)
Only the Letters and Ficsit Logo Mod (3D Text)
Better with Micro Manage Mod (You can move it and resize all decorations) - https://ficsit.app/mod/B9ZnQrrWf5rdPp
TotalXclipse Video: Decorations - Satisfactory Mod Spotlight [Satisfactory Game]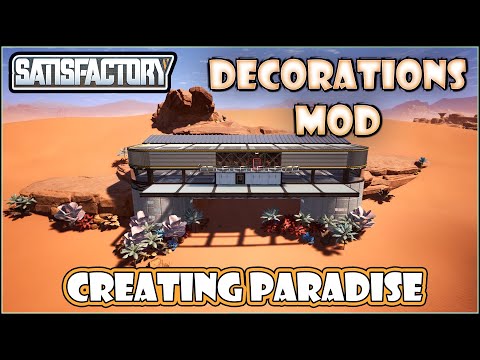 NOTICE - Alpha version. All items are decorations.
v0.0.2
Individual icons for every item (+220 new "screenshot icons")
You can put decorations on 90 degrees surfaces (walls or mountains)
Removed all bugged shiny trees
Removed all bugged unremovable items
Removed all bugged low definition items
Removed Foundations and Letters (now in other mods)
To Do List
Make it possible to construct "on" the decorations you build (Mountains)
More functionalities for the items
Living NPCs
To contact, please use @MiniMods and quote the mod DecorationMod.
Any ideas / Suggestion / Need Some Help / Bug Report :
Best using with +100 Milestone Mod:

I'm having a lot of fun making Satisfactory Mods and I hope you are enjoying them! If you want to donate, i would be very grateful.
- Icon by Deantendo#4265 - https://discordapp.com/channels/555424930502541343/701160102077530213
- This is an Alpha Mini Mod
If you are a Modder and wants to integrate, absorb or take over any of my 'Alpha Mini Mods Ideas' for your one. Please, contact me at the SMR Forum FICSIT Augmentation Database!