Start a NEW GAME in a FLAT world, where you die if you walk on the ground. You only can walk on foundations.
Extract all the Omni Material to expand your factory.
In multiplayer, the host have to build the hub and the joined player have to Respawn
TIPS TO START
Start a game with Tier 1 Complete (mark the option at start "SKIP INTRO")
Quickly try to research Omni Organic on the Hub and automatize Omni Material -> Omni Organic -> Wood -> Biomass
Not compatible with any mod that adds new RESOURCES to mine and not compatible with "Space Block" Mod.
If you want to walk on a big FLAT world, use the Space Block Mod: https://ficsit.app/mod/9gc7KeYh9NiTf3
The Keanedom Video: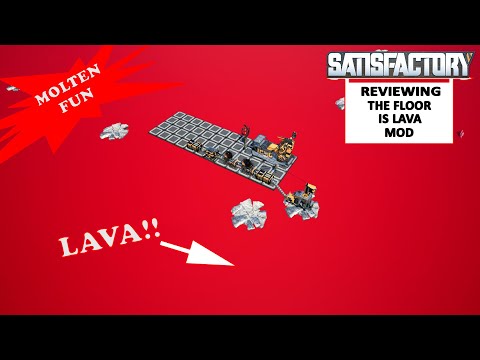 To contact, please use @MiniMods and quote the mod TheFloorisLava.
Any ideas / Suggestion / Need Some Help / Bug Report :
-
I'm having a lot of fun making Satisfactory Mods and I hope you are enjoying them! If you want to donate, i would be very grateful.
-
Icon by Deantendo#4265 - https://discordapp.com/channels/555424930502541343/701160102077530213
- This is an Alpha Mini Mod
If you are a Modder and wants to integrate, absorb or take over any of my 'Alpha Mini Mods Ideas' for your one. Please, contact me at the SMR Forum FICSIT Augmentation Database!
-
Support Andre Aquila