Upside Down Foundations and More v0.2.3
This foundation pack includes a variety of upside down and sideways vanilla foundations, in addition to landscape, emissive, and experimental floors, ramps, and walls.
How to unlock?
At your H.U.B., scroll-right through all available Tier 0 Hub Milestones and find the desired bundle to unlock.
Specifics:
Adds x3 Upside Down Vanilla Foundations: 8x1m, 8x2m, and 8x4m

Adds x1 Upside Down Vanilla Glass Foundation: 8x1m

Adds x1 Sideways Vanilla Foundation: 8x8m

Adds x1 Sideways Vanilla Glass Foundation: 8x8m

Adds x11 Landscape Foundations

Adds x11 Landscape Ramps

Landscape variants best used with Decoration mod to plant trees, place rocks, and much more.

Adds x3 Holodeck Parts (WIP): Foundation / Ramp / Wall

Adds x15 Emissive Parts: Foundation / Wall / Ramp - Red, Blue, Green, White, and Yellow

Adds x3 Paintable Parts: Foundation / Wall / Ramp

Adds x2 "Clean" Parts (WIP): Foundation / Ramp

Adds x1 Vanilla Glass Ramp (WIP)

Adds x2 Experimental Roundations (WIP)

Adds x12 Experimental World Grid Foundations: In 0º, 10º, 15º, 20º, 30º, 40º, 45º, 50º, 60º, 70º, 75º and 80º angles.

These spawn a world-grid-aligned vanilla foundation at their denoted angle. They can function as an alignment seed to aid world-grid-aligned construction.
To place various key buildables on the ceiling then check out the Conveyor Floor Hole mod.
Any suggestions and comments welcomed here.
Gallery:
Sideways and Upside Down:
Holodeck (v0.2.1) WIP
Landscape Foundations:
Complete Paintable Fountation and Wall:
Roundation (WIP):
World Grid Aligned Foundation Stamps (WIP):
Emissive Foundation and Walls (Ramps not shown):
Build Menu:
Random Gamer Video: Upside Down Foundations (v0.2.1)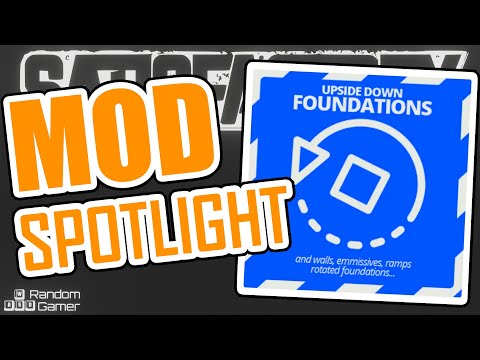 Any ideas / Suggestion / Need Some Help / Bug Report :
Icon /UIs and Graphic Advices by Deantendo#4265 - https://discordapp.com/channels/555424930502541343/701160102077530213
I'm having a lot of fun making Satisfactory Mods and I hope you are enjoying them! If you want to donate, i would be very grateful.
Support Andre Aquila