Testing Version: Please, share your bugs and suggestions for me on Discord: MayorAquila#7740
A Factory Remote Control and Stats!
ATTENTION: In case of "loosing" the mouse control, try to press F12 to release or get the mouse back (takes 7 seconds).
To Activate,
Unlock the Milestone in Tier 0
Build the Remote Receptor (Only build one, and dont dismantle it. It saves your Remote Control Data)
Press F2.
Multiplayer
Host use the information above.
Guest should build Remote Receptor and double click "F" on it. Then press F12 to control it each 7 seconds.
Features:
Global Production per minute
Bottleneck
Clock / 3D Clock / Chronometer
Access to: Hub, Awesome Sink, Awesome Shop, MAM, Crafting Bench, Equipment Workshop and Space Elevator.
List of all your buildings and beacons: Storages, Smelters, Manufacturers, Refineries, Miners, Stations and Extractors,
Access to Cameras that you can name and put on your factory.
You can unlock, if you want, in the bottom of the phone: Teleport to Locations / Interact with all machines. (Allow Cheat MENU)
List of Available Recipes with all infos
Next Features:
NEW GRAPHICS (Beautiful made by Deantendo)
Next/Previous button on listing buildings/storages/cameras
Cheat Button (Only see if you configure to allow teleportation): Teleporter: Place: XYZ
Missions to produce items per minute.
TO DO:
Allow to put stats you choose on your playing HUD
Camera pleacable like Power Poles (Wall, Ceiling and Floor)
Monitors to see the cameras in your factory
Flash Light Button - More bright lights in dark times
Camera Button - A celular camera with some special effects to take screen shots
Game Time and the Total Played Time in the savegame
See your Screenshots folder
Search for Beacons
Turn it into a Tablet like Moar Factory
Soon, new arts by Deantendo:
Current version:
LK Aice Video: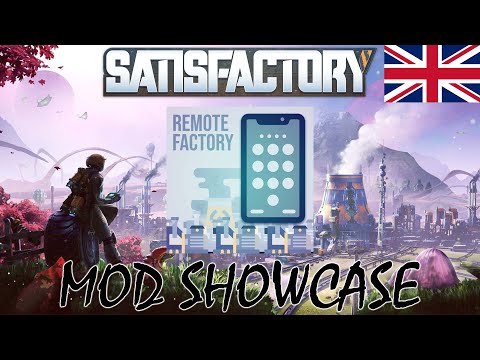 Know Bugs:
You can see the widget and teleport to Space Elevator, but not interact.
Fluid Platform not showing his Fluid inventory inside the remote control, you have to click on it.
Oil Extractors not showing in the stats.
F2 and ESC - Breaks the mouse (you have a quick time to click in "Resume Game")
To contact, please use @MiniMods and quote the mod Remote Factory.
Any ideas / Suggestion / Need Some Help / Bug Report :
-
Icons, ideas and graphics by Deantendo#4265 - https://discordapp.com/channels/555424930502541343/701160102077530213
-
I'm having a lot of fun making Satisfactory Mods and I hope you are enjoying them! If you want to donate, i would be very grateful.
-
- This is an Alpha Mini Mod
If you are a Modder and wants to integrate, absorb or take over any of my 'Alpha Mini Mods Ideas' for your one. Please, contact me at the SMR Forum FICSIT Augmentation Database!
-
Support Andre Aquila

Support Deantendo